5 Ways to Spice Up Your Rental and Still Get Your Deposit Back
As a serial renter, I'm constantly seeking new, non-permanent ways to freshen up a space and make it my own. In the past, I've lived lease-long sentences surrounded by bare walls to avoid the hassle of repainting and filling nail holes, and you know what? It wasn't worth it. Thankfully, there are plenty of DIY's out there that can help your rental feel less like a holding place and more like home. We've rounded up five ways to spice up your rental without giving your landlord a heart attack.
One major drawback of renting can be the restrictions tenants face when it comes to paint. Even if you get the O.K. from your landlord, who wants to have the added task of resetting the walls to white when it's time to move? That's why the painted doorway is a design-conscious renter's BFF. This small touch has a high-impact feel that is easy to pull off (and paint over). Photo: Vogue Living.
If even a lick of paint isn't an option for your rental, that doesn't mean you're sentenced to a lease-long life of lackluster. A coat of color isn't the only way you can assign a vibe to a room. If you're working with white, you've basically got your own gallery wall just waiting for it's time to shine. Sort your existing art into color palettes or find a piece you love and set out to find others that compliment it well. Check your local flea market and thrift shops for unique (and inexpensive) pieces, or support working artists through sites like Society6 (follow their IG for artist features and promo codes). Use Command products to hang lighter frames and don't forget to fill in any holes upon move-out. Photo: The Chriselle Factor.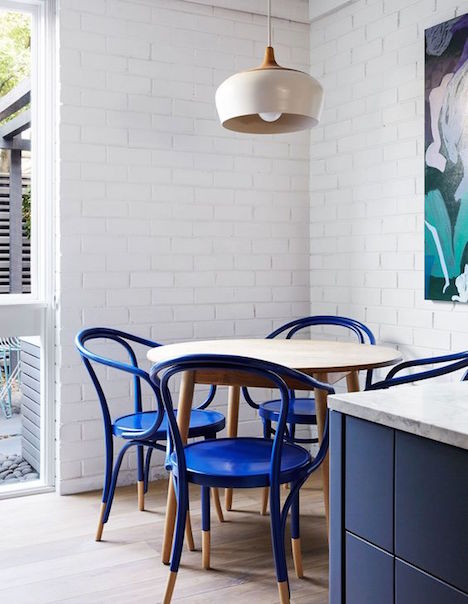 Sometimes, the opportunity for a color upgrade is hiding in plain sight. Exhibit A: your basic, run of the mill table and chairs. Upgrade a set by adding a few coats of paint to add a high-contrast splash of color to any dining area. The look strikes the perfect balance between being effortlessly cool and playfully unexpected. No room in your place for a sit-down meal? Try the same technique with your coffee or end tables. Photo: The Design Files.
Some things are best left to nature, so if DIY's aren't your thing, we've got you covered. Brightening up your space can be as easy as visiting your local garden center -- but don't fret if you're not a fan of green. There are plenty of houseplants that offer vibrant shades, from the Peperomia that comes in a variety of colors, to my personal favorite, the Crota (pictured above). Click here to find more houseplants that will make you rethink what it means to have a green thumb. Photo: Kelsey Walker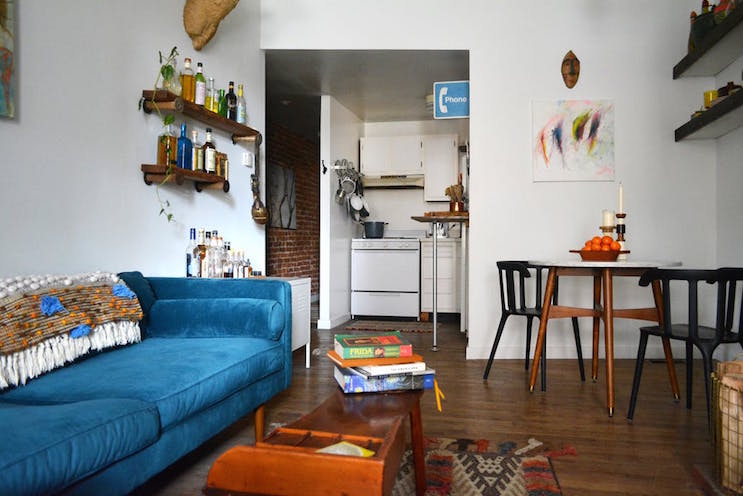 While this technique is more drastic than the others, there is no bolder choice than a non-neutral sofa. Now, this will obviously take some planning and you'll likely have to build the room around this piece, but subtlety is for the boring and that is definitely not you. Jewel tones are especially striking -- think emeralds, ruby reds, and sapphire blues. Play it up with bright, complimentary art or pair it down with minimalistic walls to let the sofa do its thing. Photo: Apartment Therapy.